"The Future of Mental Health in the Workplace" – Reflections on the webinar hosted by Odgers Interim & Berwick Talent Solutions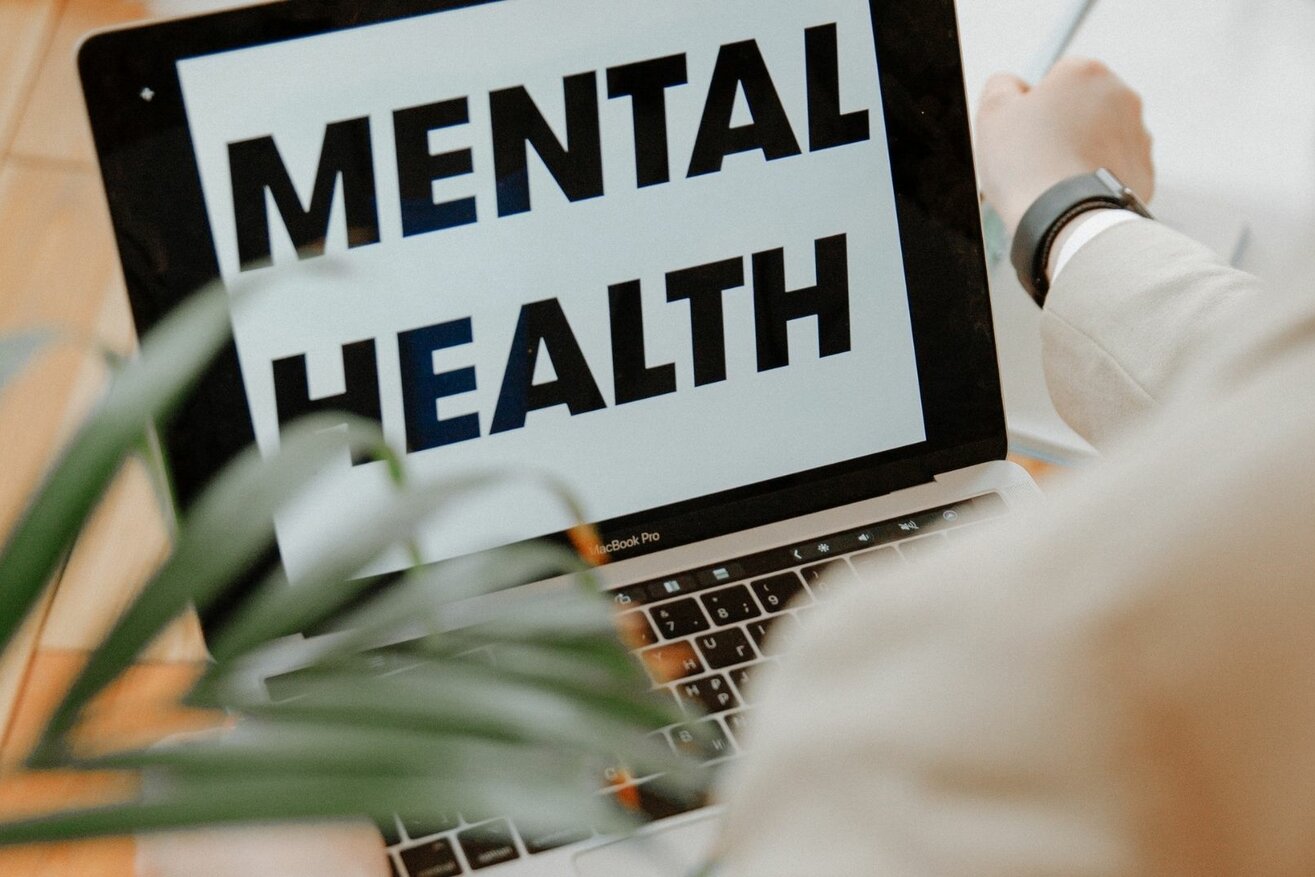 In the lead up to Mental Health Awareness Week 2021, Odgers Interim and Berwick Talent Solutions hosted a webinar on the future of mental health in the workplace to reflect on the impact of the COVID-19 pandemic on the mental wellbeing of the workforce in the UK and to discuss positive changes and new initiatives that employers can establish to support their employees moving forward.
The webinar was hosted by SJ Leatherdale and Rebecca Brandwood from Odgers Interim, and Kate Parker from Berwick Talent Solutions, who are active mental health allies, promoting mental awareness across our businesses. They were fortunate to be joined by a panel of knowledgeable mental health advocates, who shared their insights, initiatives, and experiences to help smash the stigma associated with mental health in the workplace. The panel consisted of Sarah P. Jones, Creator of Mental Health Intelligence and Co-Creator of CovidDataHub.com, Jinjer Kandola, Chief Executive of Barnet, Enfield and Haringey Mental Health NHS Trust, Josh Krichefski, Global COO and CEO EMEA at MediaCom, and Briony Robinson, the Co-Chair of 4Mind at Channel 4.
Shifting the stigma associated with mental health in the workplace
As we are slowly emerging from the COVID-19 pandemic after more than 12 months of unprecedented changes to our personal and professional lives; one area that has significantly changed and improved, is that of mental health awareness.
Drawing on her extensive doctoral research into mental health, Sarah P. Jones is extremely optimistic about the future of mental health and wellbeing in the workplace. She points out that as a direct consequence of the pandemic and the changes we went through, people have come together more (albeit virtually), there has been an increase in organised mental health allies groups across businesses, and the general attitude towards mental health and the stigma associated to it is shifting.
To a large extent, this is due to various initiatives created by businesses, charities and other institutions alike, who are encouraging people not only to talk about their mental health, but also by nurturing an environment of active listening. These changes are especially important if we want to keep the momentum moving forward, but also to ensure that businesses implement long-term changes that remove the stigma surrounding mental health in the workplace.
It's okay not to be ok
Reflecting on the approach to mental health in Barnet, Enfield and Haringey Mental Health NHS Trust, Jinjer Kandola shared with us that one of the most vital messages leaders should share with their employees is that "it's ok not to be ok." Jinjer told us that while the NHS Trusts knew exactly how to help patients and provide support right from the onset of the pandemic, it was important to set up supportive functions to help her workforce and to really evaluate their needs and requirements to help them to navigate through this unforeseen pandemic.
Vocalising the need for support, knowing who to ask for help and actively listening to others was supported through the creation of helplines, chat rooms and benefits care packages. However, one of the most effective ways to embed change into practice was, according to Jinjer, leading by example. Working from home as a leader, to show to her workforce that they, too, can work from home, was one of the ways in which Jinjer provided a work environment that was supportive.
Sharing his experience as CEO EMEA and Global COO at MediaCom, Josh Krichefski agreed with the idea of role modelling behaviours. He states that it is most important to create a workplace that signals that it is ok to talk about mental health and that it will not have a negative impact on someone's career. However, in order to achieve this, Josh stressed that it is vital to have the support of the senior leadership in an organisation, and more importantly, the communication shared with the workforce should be authentic and not just a "one-off".
Implementing long-lasting change to promote mental wellbeing in the workplace
One of the key points all panellists agreed on, was the need for long-term change in order to remove the stigma associated with mental health in the workplace. Briony Robinson, Co-Chair of 4Mind at Channel 4, made a great point of saying that companies and business leaders need to normalise maintaining good mental health by implementing policies that give certainty to their workforce. So what exactly could executive managers and organisations do to create a supportive work environment in which employees can seek help without fear of damaging their career prospects?
One key initiative, which was implemented for the first time in the UK by Channel 4 earlier this year, is the introduction of a pregnancy loss policy to protect and support women and their families during one of the toughest times of their lives. By highlighting the introduction of this policy, Channel 4 are hopeful that other companies will follow their example, with UK-based Bank Monzo implementing their own pregnancy loss policy earlier this month.
Reflecting on the lessons learned specifically during the past twelve months of the pandemic, our panellists highlight that employers need to listen to their workforce on a regular basis, as needs and circumstances might change rapidly. Conducting regular pulse surveys to capture the thoughts and requirements of staff is an effective tool to keep track of the support a business might need to offer. Furthermore, it is vital to ensure that all employees know where to find help, who to speak to for advice and what support the employer offers. This could be achieved by providing an online hub with links to all relevant contacts and resources, sending out regular internal newsletters with new initiatives, or offering drop-in sessions to allow staff to get more tailored support.
Whilst these initiatives are important, it is also vital to keep in mind that mental health and wellbeing is a very individual issue and not something that can be approached with a 'one size fits all' mentality. Josh shared, with regards to his approach to managing mental health at MediaCom, that ensuring an open discussion and removing the stigma can be a very powerful message to promote inclusivity. To support mental wellbeing on a more individual level, employees at Channel 4 are being offered two wellbeing days per year, Briony told us, which they can chose to use in whatever way they see fit.
Mental health in a post-pandemic workplace
As we are facing a gradual return to the workplace, it is crucial for employers to anticipate differing levels of anxiety. It is therefore vital for businesses and executive managers to think about long-term cultural changes to their workplace, as many people will have re-evaluated their priorities. Sarah pointed out that this will make employer proposition more competitive, as workers will have different needs and requirements emerging from the pandemic with regards to how and where they would like to work in the future. Jinjer noted further that the impact of the pandemic on our mental health might not be felt immediately, but rather manifest itself in months and years to come.
Moving forward, employers should too be mindful of these issues and allow their workforce an individual and flexible approach. Due to increased awareness, we would hope to continually reduce the stigma attached to mental health.
If you would like more information about mental health in the workplace or discuss anything raised in this article in more detail, please contact SJ Leatherdale, Rebecca Brandwood, or Kate Parker.