Odgers Interim and Odgers Berndtson wins at inaugural menopause awards judged by Carolyn Harris MP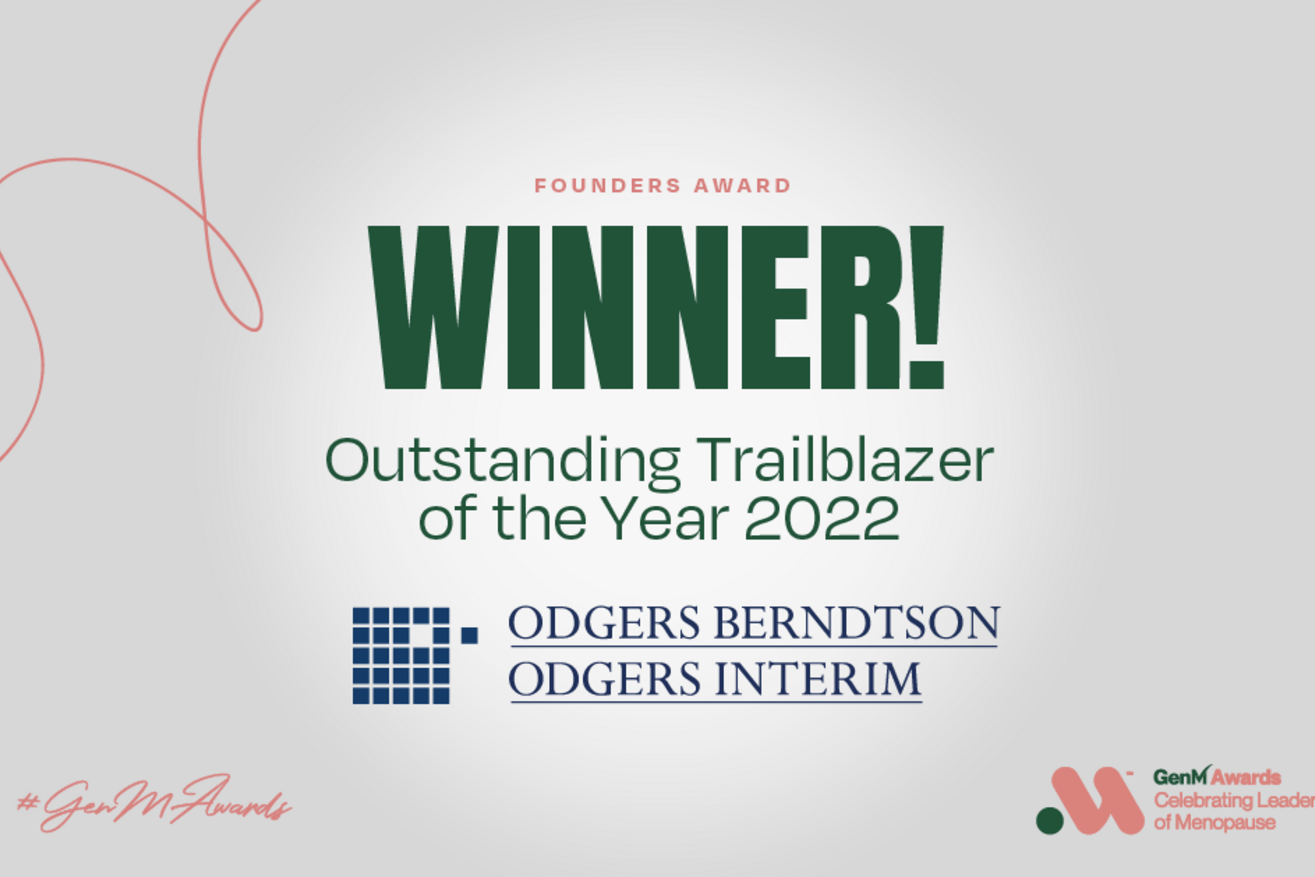 Alongside Odgers Berndtson, we are thrilled to have won the Trailblazer Award for our Internal Support at the inaugural GenM Awards.
A world first, the GenM Awards aim to celebrate the businesses leading change for the menopause and were launched by GenM – the menopause partner for over 60 brands including Marks & Spencer, Next, Royal Mail, Boots, WW, Co-op, Holland & Barrett and Vichy.
Market research from GenM's Invisibility Report shows that 87% of menopausal women feel overlooked by brands while a huge 90% wish brands would do more to improve the menopause experience. These awards focus on the work being done to improve the menopause experience as a whole, whether through innovative products, informative campaigns, or essential workplace initiatives. Winners were announced in an online ceremony as well as a small and intimate event.
The Trailblazer award is honoured to those who are praised for their drive and passionate voice internally, connecting all parts of the business in support of women in midlife.
The 16-strong judging panel included Deputy Leader of Welsh Labour Carolyn Harris MP – Chair of the All-Party Parliamentary Group on Menopause. Other notable names among the panel of medical professionals, influencers, and brand and policy experts included ITV's This Morning GP Dr Nighat Arif, fashion creative Karen Arthur, and Vanessa Vallely, CEO of We Are The City professional women's network.
Sarah Shaw, Partner and Head of the Education Practice for Odgers Interim, said: "I am truly delighted to have won this award but want to take the opportunity to thank GenM who are the true trailblazers in terms of professionalising communication about the menopause and driving products and brands in this space to be the best they can be in terms of supporting women on their menopause journeys.
"I am committed to ensuring those at Odgers are informed and the conversation is normalised. We began our own journey with a WhatsApp Group for women going through the menopause, this has grown to include face to face meetings, online zoom meetings, signposting on the intranet and the creation of a menopause policy which is accessible to all.
"Our determination to put our people at the heart of inclusivity is extending to include our clients and candidates to ensure the latter remain in processes and that women, but actually everyone, has the career and work satisfaction they deserve."
Sam Simister and Heather Jackson, co-founders of GenM said, "Research shows that those in menopause are crying out for support. The menopause isn't simply a medical issue, a workplace issue or even a gender issue. Half of the world goes through this transition and it impacts everyone in society. We all have a role to play, including the brands we use. The menopause market deserves to be catered to, and there is a purposeful and strategic opportunity for the companies that do. Brands need to see the menopause as a holistic issue that can impact every area of a business so it's a pleasure to uplift the brands doing just that. A huge well done to all winners and thank you so much to our expert judging panel."
Carolyn Harris MP said, "I was delighted to be invited to judge the GenM Awards! I was blown away by the quality of entries and it's staggering to see the amazing progress that has been made in a relatively short amount of time. I'm looking forward to seeing the great steps that will continue to be made in future."