Enterprise Technology: agile leaders driving the rebound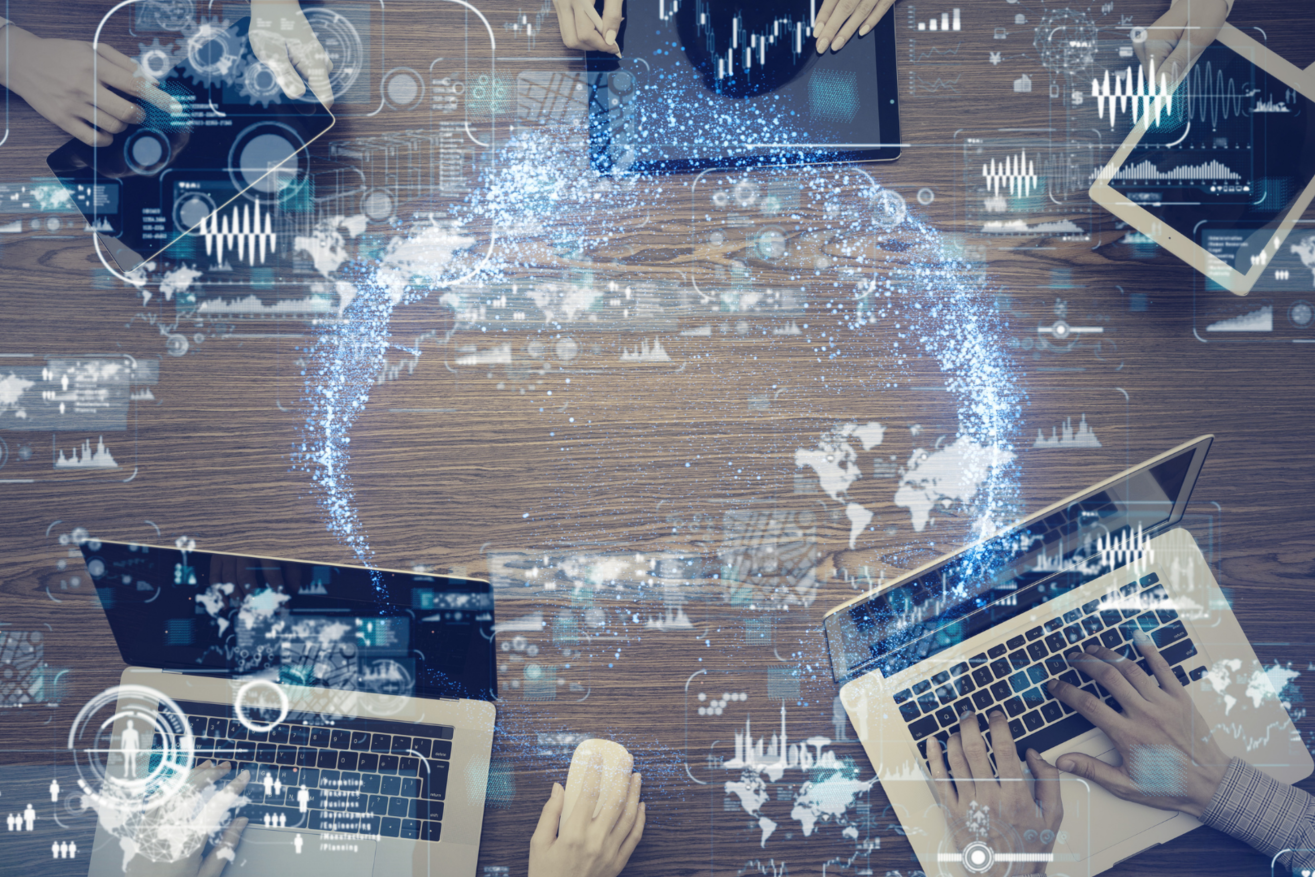 Following a fall in the midst of the pandemic, new roles in Technology and Interim as a whole have rebounded to surpass 2020 levels, notes our Head of Technology Paul Wright.
Two years of the pandemic
For the Odgers Interim technology practice, the pandemic had a 'long U-shaped' effect on our business. Counterintuitively, we saw some big hires within the first few months, perhaps because coronavirus still seemed a distant problem.
The UK technology (tech) sector was instrumental in alleviating the effects of the health crisis in its first year through supporting the digital pivot to remote working and schooling. This was swiftly followed by a massive acceleration in the adoption by businesses of cloud, digital, data and cyber technologies. It's widely recognised that within the first year of the pandemic alone, companies carried out the equivalent of three years of digital transformation.
The development and rollout of vaccines incredibly took just 332 days from initial DNA sequencing through to the first doses injected into our arms. This required a huge HealthTech effort to process vast data and superfast scaling in the cloud.
This period of disruption saw a range of HR, Finance and Operations leadership roles as tech companies restructured their operations to get people on furlough or remove surplus roles, re-engineered finance to conserve or raise cash and created operational efficiencies to cut costs.
There was then a dip in the number of new roles lasting several months. But activity ticked up towards the end of 2020, rebounding rapidly late last year as we climbed the 'other side of the U'. So much so, that we are now above 2020 levels both in Tech and Interim as a whole.
As a practice, we're serving as many mid-market customers as large enterprise, especially those backed by private equity. This reflects the flow of investment in tech amid the contagion as there are probably now three times more private companies than PLCs in the UK, with new ones minted every month.
Where we are now
We've seen three broad trends play out the last year that have come to fore the first quarter this year.
The first is the pivot from restructuring to growth. This new mood music means the need for on-demand CEOs and C-suite leaders in finance, HR and technology has rebounded. The thread running through these is that they're all about planning for and delivering the business' future state, where the expectation is high growth.
With this growth front of mind for tech CEOs, we've seen renewed demand for interim sales and marketing leaders, a segment hitherto less developed in interim management. Throughout the pandemic it's been difficult to sell to new customers and many tech businesses doubled down on inbound customers rather than conducting cold business development.
But there is now widespread focus on the need to get back to core marketing outreach and accelerating sales. Rehiring of sales and marketing leaders is more widescale, with companies putting significant resources into both functions to make them more digital, data-driven, repeatable, and more closely aligned.
The second upswing we're observing is the acceleration of digital transformation with programme director roles spiking to manage all the project outcomes for change at a much higher cadence and intensity. In tech, it's move fast or be overtaken by the competition!
Thirdly, the unifying connection for all of this is with digital, data, cloud and cyber - either in the type of company or role. These aren't new but themes that have been playing out in tech for five years or more. What is new is the pandemic has made them imperative (rather than optional), accelerated their adoption and made them more intertwined thus inherently more complex.
Pandemic paradoxes and where next
The pandemic has also thrown up some real leadership paradoxes. While Enterprise Software and IT Services have focused on hybrid working, hardware-led businesses such as electronics, semiconductors and photonics have been just as focused on getting workers into factories and keeping them safe. Much like the 55% of the UK workforce that remained in their place of work throughout the health crisis.
Enterprise tech CEOs reflect that whilst employees have been productive in their teams, collaboration, cross-sell, and innovation have diminished. Chief executives recognise being together in the office more would help solve this, but equally the paradox that even as employees say they want more in-person collaboration, they also want more flexible remote working.
Moreover, initially many thought that hybrid working would solve, or at least alleviate, inclusion and diversity shortcomings. But that hope remains unfulfilled as, for example, research by The Economist suggests ethnic minorities and women prefer to WFH and appear more reluctant to re-enter offices.
As we return to the office, the paradoxical challenge of balancing employee needs with business growth imperatives (against a backdrop of the 'Great Resignation') and avoiding a dual track workforce stands out. What these paradoxes show is that ensuring hybrid work is designed to optimise flexibility, has a level playing field and reboots learning for the less experienced will remain a key leadership challenge in 2022.
From a subsector perspective, FinTech is attracting huge amounts of investment, with S&P reporting a threefold increase in 2021. This isn't 'just' digital payments and banking, both boosted hugely with the pivot to online throughout the pandemic, but now includes WealthTech, Reg(ulation)Tech and TradingTech. In fact, two thirds of our work last quarter was in FinTech, a reflection of the UK's position as a hub for the sector.
FinTech will remain an area of focus for us as it is an underserved market. Those businesses involved in mega-funding rounds need high-impact leaders to help meet the governance, regulation and compliance challenges associated with scaling up, often towards IPOs. In this sense, FinTech will come to look more like the core Enterprise Technology businesses we've served the last five years.
In the third year of the pandemic, across the technology landscape the necessity for agile leadership is common to all businesses. There is no one size fits all approach. But authentic, agile leaders who maintain a high frequency of genuine, open communication will inspire their people so their tech businesses can outperform their peers.
For more information, please contact Paul Wright.