Can customer experience power a resurgence in the High Street?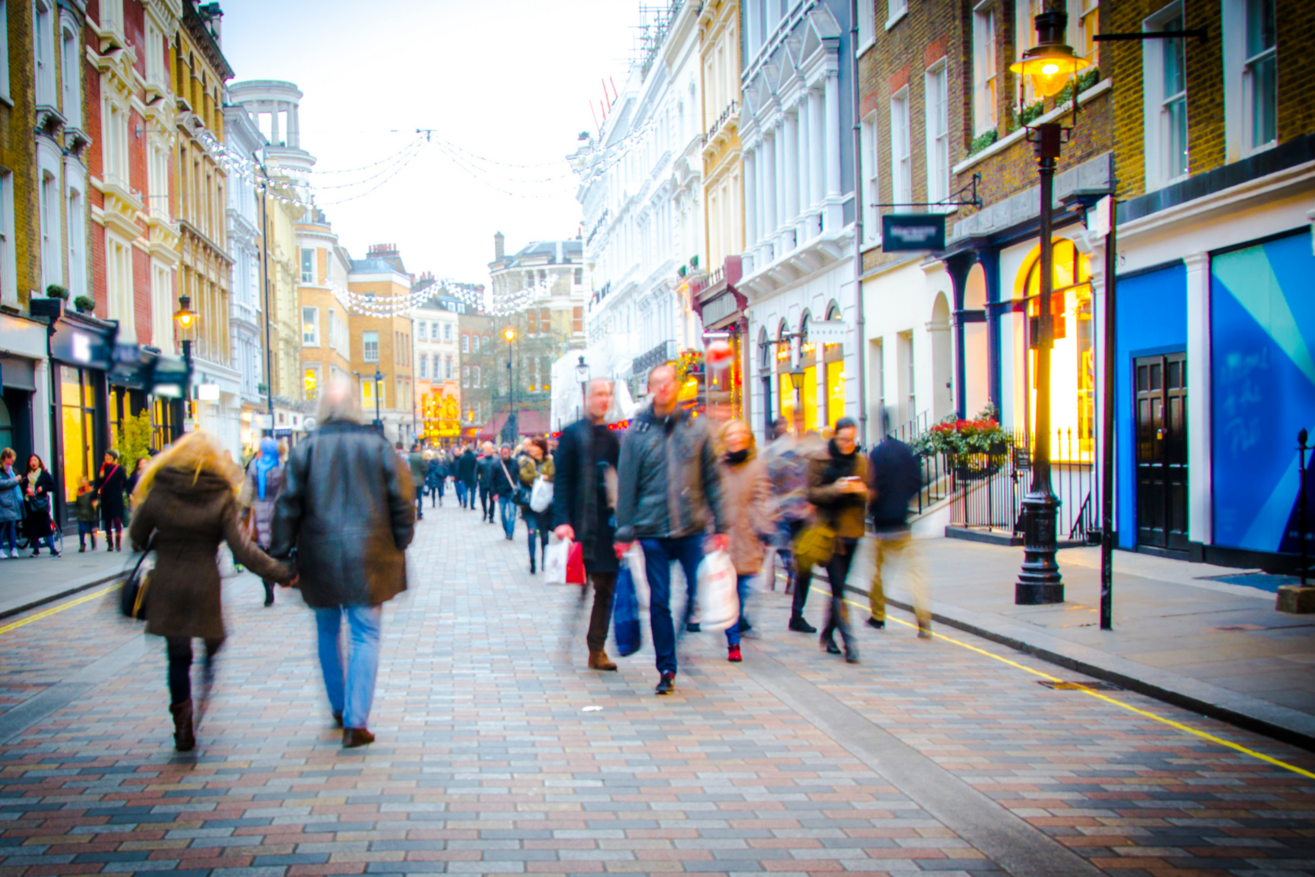 The High Street still has a lot to offer but if retailers are to thrive there they must give their customers something special, write Zoe Wakeham and Daniel Wood, Consultants in our Consumer & Retail practice.
Making money on the High Street is far from easy. The rollcall of defunct retailers that were until recently town centre staples is a long, gloomy one and empty shop units are all too common.
But despite the challenging situation, there is cause for optimism. Although battered by changing consumer shopping habits driven by the convenience of online, a pattern massively accelerated by Covid lockdowns, there are signs of a resurgence in the High Street.
British Retail Consortium figures released earlier this month show a 10.5% year on year increase in High Street footfall for April, with shopping centres enjoying a 7.9% rise. Heartening, but BRC chief executive Helen Dickinson cautioned that while the expectation is for a continued improvement in footfall, it may never reach the levels seen prior to the pandemic.
That said, online retail is not an all-conquering force.
Some fast fashion brands, which were on the crest of a wave several years ago, have struggled. For instance, Asos has fallen £291m into the red as shoppers have returned to physical High Street stores. And as for the competitive threat of the metaverse, that is unlikely to materialise any time soon as the likes of Disney and even Mark Zuckerberg's Meta seem to have gone cold on the idea.The Metaverse is definitely coming, though. Some brands are doing well there already by targeting younger, more technical early adopters and influencers. Nike sold over $6m of a one-off sneaker that was designed in collaboration with an influencer. That was both physical product and NFTs.
But in reality it's a long way from being the parallel universe to the real world that it will ultimately become. I don't believe Meta are going cold on it at all.
Yet the truth is people still like to shop in town. A bit of 'retail therapy' is a leisure pursuit, and often a social activity involving friends and family. It's enjoyable. At least, it is when retailers get their value proposition and store environments right.
Almost two years ago we wrote about the power of the retail experience as shoppers began coming back to town centres after government Covid restrictions were lifted. Now that a 'return to normality' is no longer a novelty, a compelling customer experience is even more important. As Marketing Week observed, with a host of retailers reverting their attention to physical retail, finding new formats that entice consumers could be key to growth.
If stores are to do well, they must offer a great experience, otherwise consumers will opt for the convenience of buying online.
Improving the customer experience is therefore a must. Retailers need to understand what their customers want across multiple channels and provide something in their bricks and mortar outlets that draws people in and cannot be replicated online. We expect to see healthy demand for accomplished customer experience professionals in the months ahead.
Some of the 'new' will also include welcome elements of the 'old'. On the back of a resurgence in vinyl sales and strong interest in pop culture, HMV intends to reopen its iconic flagship store at 363 Oxford Street after four years of closure. It first opened on the site as long ago as 1921, with Sir Edward Elgar, composer of 'Land of Hope and Glory' and 'Nimrod' the guest of honour! Countless famous recording artists have made personal appearances at the store during the decades since.
HMV's return to W1 is great news for Oxford Street which has experienced a decline in its prestige following the disappearance of some prominent retailers. The store will feature HMVs new logo, layout and concept, first trialled two years ago in the West Midlands town of Solihull when the retailer opened a new-look shop to mark its 100th birthday. By next year, half of HMV's estate will have been converted into this new store concept.
"The national chains need to find a way of differentiating as consumers are bored of homogeny," says Martin Newman, one of the world's leading authorities on customer centricity. "One way of achieving this is to empower the staff at a local level to make decisions and take actions around merchandising, marketing and service. They know their local market better than a head office ever will and data doesn't always tell the full story about local opportunities."
Interesting and original retail formats clearly have a role to play in the resurgence of the High Street. However, these will not exclusively be in the hands of major retailers. A fuller revival of the High Street will require a more coordinated approach encompassing national and local government, property developers and community enterprises.
A new report on Community Powered High Streets acknowledges that while online shopping has an important place in today's economy, High Streets will also remain hugely important as long as a sense of place and community is strengthened. "A National Community-Led High Streets Programme could build on the many place-based High Street transformation initiatives which have been trialled in England to date and bring together learning from existing programmes such as the Town Deals and Future High Streets Fund, the work of the High Streets Task Force and community-led partnership initiatives like the Community Improvement Districts," says the report. "While there have been many such interventions to date, few are comprehensive and open to any community that wants to take action on their high street."
People feel pride in their local community and are keen to see vibrant town centres. Smart, customer-centric retailers will sit at the heart of this.